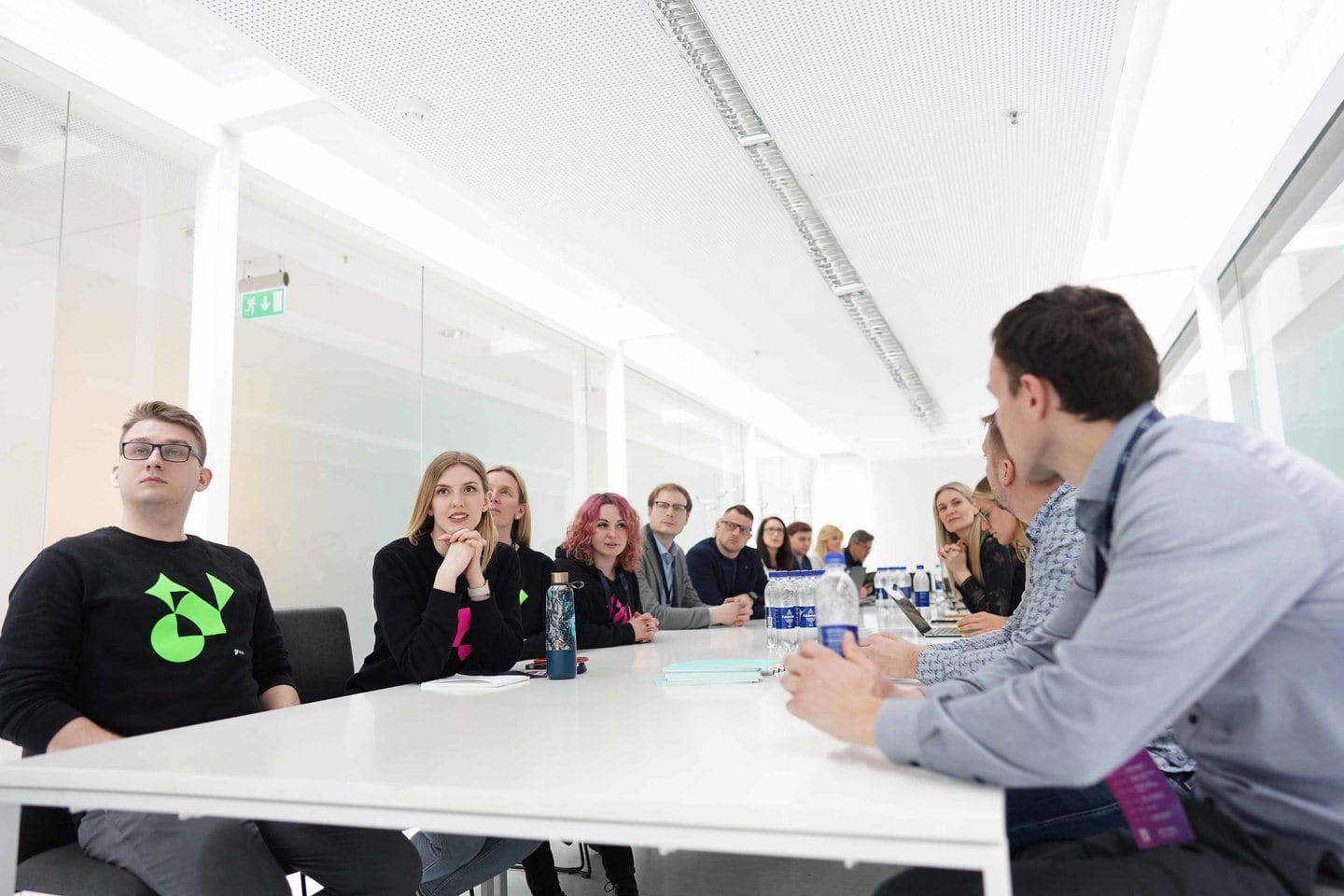 Get to know our

teams.








Software Engineering and Developement
.NET
If you love the Microsoft ecosystem and want to be a part of creating epic software that makes doing business easier. That is what our .NET developer does daily. So, if you are looking for a team that builds business changing software for a living and that want to improve business processes of the world. Join us by applying to be one of our .NET Developers 
Front - End
Love creating beautiful and functional websites and user experience? Our Front-End Team does as well, with a portfolio of many software developed and testimonies from many of our clients, join our Front-End team to get started or to continue your career in the art of making functional and beautiful web apps. 
Cobol
The language that the governments and institution rely on, our Cobol Development teams helps maintain the functionality of software in many big banks and institutions. 
Be a part of making the financial world and governments work by joining our Cobol development team.
Java
The worlds third most popular development language, be a part of creating back-end systems and databases that are prepared to sustain the world of big data. Join our Java Development Team and contribute to meaningful projects with beautifully written code that help make databases function well. 
PHP
Contribute to the world of Back-End with your PHP skills. Be a part of creating dynamic applications and websites, using the dynamic scripting language of PHP. 
DevOps
Be a part of our DevOps team by making our processes more efficient. Optimize processes using tools and methodologies while balancing the needs during the software development life cycle, from coding and deployment to maintenance and updates. 
MFT Admins
Love managing systems and the administration of them. Join our MFT team and learn how you can keep companies running smoothly through performing routine maintenance and writing custom scripts that help with the automation of tasks, reducing human intervention. 
Oracle
Love the Oracle database? We do too, join our Oracle development team and be a part of creating new software or converting existing software to the new standard of data management.
Business Intelligence
Are you a data enthusiast? Join our Business Intelligence team to embark on the exciting journey of equipping businesses to have insight into refining business decisions, identifying necessary matters, finding business opportunities and many more. The combination of technical and business fields optimises the organization's virtual change.
Mobile Engineering
Are you a genius who can design, develop, and implement software programs for smartphones and other mobile devices? Our Mobile Engineering Team enjoys completing the application lifecycle, writing codes, determining client requirements, creating UX interface, collaborating with the product development team, and expanding their knowledge of new technology trends.
Get a chance to work in close collaboration with other engineers, designers, analysts, and other team members of REIZ TECH!
QA (Quality Assurance) Specialists
As a Quality Assurance Specialist, you will be part of our team that oversees the quality of all products and services that our organization produces. Part of this responsibilities include developing, improving quality standards, conducting tests, and identifying issues in the production of our products or services. In the end, you will help make our final products meet our organization's, as well as the clients' standards across the board. 
Business Analysts
Be the bridge between IT and business using analytical approaches to assess processes, determine requirements and deliver facts-driven recommendations and reports to executives and stakeholders. By joining our team of Business Analysts. 
Engage with business leaders and users to understand how fact-driven analysis changes processes, products, services, software, and hardware, improving efficiency and adding value.
Scrum Masters
Believe yourself to be a generalist, our Scrum Master role may be right for you. As REIZ Scrum Master, you will be coaching and motivating Agile teams to improve processes, facilitating meetings, and encouraging self-organization by bringing out the best in people. You are there to ensure that the Agile Teams follow Scrum framework values and principles. Aside from technical skills you will have a great opportunity to be a part of our continuous learning culture and develop excellent interpersonal and project management skills. 
Product Owners
Love collaborating with prospective users and clients to understand and anticipate their needs? Our Product Owner team might be right for you. Translate product requirements, Define the vision for the team's product and create a product road map to reach a planned vision.
Talent Acquisition
Be a part of searching, interviewing, and selecting the right people for the right job in Reiz Tech. Join Talent Acquisition specialists and help expand our team of experts with world-class talent. 
Marketing & Communications
Be a part of the team that is responsible for keeping Reiz in the forefront of the minds of the people. Join our Marketing Communication Team and be a part of keeping Reiz Tech relevant always.
Human Resource Management
Love getting to know people and guiding them to a career that is exactly right for them? Join our Human Resource Management team and make the culture of REIZ thrive.
Project Coordinators
Join the team that helps to keep our clients and our colleagues well informed and up to date. Join as our project coodinator and take your steps in learning the art of people and project management, while keeping all stakeholders happy and satisfied. 
Compliance Management
Be part of the team that keeps Reiz's business and projects organized and compliant. Join our compliance team to help keep us operating responsibly. 
Accounting
Be part of the team responsible for the management and reporting of financial data of Reiz Tech. Join our Accounting Team and their efforts to analyse our company's figures and ensure compliance with financial reporting and other standard accounting procedures. 
System Admins
Join the team that keeps Reiz Tech functional. Our System Admins team helps make sure all our Reizers have the tools that make them great at their work.  
Service Desk Specialists
Be part of the team that helps make sure D365 functions for everyone, join our team of Service Desk Specialists to diagnose issues that our customers have and resolve them through problem-solving processes.
2nd Line Support Specialists
If you are a problem-solving savant, join our 2nd Line Support Specialist Team. You'll be a part of team that manages ticket queries, ensuring cases are closed in a timely fashion. Provide updates and ensure ongoing customer communication is maintained. 
3rd Line Application Support Specialists
Monitor and review the quality-of-service Reiz Tech delivers. Communicate directly with all service delivery teams on site. Create, update, and maintain the technical knowledgebase and documentation processes. Join our 3rd Line Application Support Specialists to provide technical support and mentoring to other members of the team. 
Technical Security Specialists
Join our Technical Security Specialist Team and be a part of providing technical security guidance where required. As part of the team, you will be implementing and monitoring standards within regional/outsourced IT and Development. You will also be collaborating and guiding IT and Business units in correcting non-compliant processes, identifying gaps in technical security policy and process, and helping develop improved standards and processes.